Events
This section contains information on our national events, such as the annual AGM weekend, and our representation at Boat Shows. For information about events in your region, please visit the regional pages, or contact your regional coordinator via the Committee page.
AGM York 2018
AGM York 2018
The 14th AGM in 2018 will be held at the Park Inn by Radisson in York on the weekend of the 19th – 21st October, hosted by the Central Region. This modern hotel is situated on the banks of the River Ouse in the centre of York. All the major attractions within York are within walking distance, making this an ideal venue for those wishing to make the most of their time here.
The weekend will follow the usual format with a drinks reception and meal on the Friday night for those making the most of the opportunities. During the day on Saturday you will be free to explore your selected sites before returning to the hotel and preparing for the gala dinner during the evening. The Sunday morning will be devoted to the AGM before Sunday lunch for those wishing to delay their return home. You are welcome to extend your stay and we will arrange accommodation for the Sunday night for those who wish to do so.
The booking packs are about to be distributed but for anybody who can't open them they are attached HERE.
For details of the various attractions go to https://www.visityork.org/.
Peter Bentley
Tel:                  07802751160
e-mail:            peter.margaret.bentley@gmail
Written by Peter Bentley

Peter Bentley

Published: 23 October 2017

23 October 2017

Created: 23 October 2017

23 October 2017

Last Updated: 02 July 2018

02 July 2018

Hits: 2910

2910
AGM booking details
Bookings are now open for this year's AGM event which will take place in the historic surroundings of Bisham Abbey. The riverside setting gives us the opportunity to offer the option for members to arrive by boat and moorings are available on site at Bisham Abbey Sailing School.
As usual throughout the weekend there will be plenty of opportunities to catch up with old friends as well as to make new ones, so don't be put off if you haven't been before or are new to the club.
Full details of the programme and accommodation are available in the booking pack.
Written by Louise Busby

Louise Busby

Published: 31 July 2015

31 July 2015

Created: 31 July 2015

31 July 2015

Last Updated: 31 July 2015

31 July 2015

Hits: 2540

2540
Southampton Boat Show ticket offer
11-20th September 2015
Don't forget as usual the BOC will this year be able to benefit from the
CLUBS & ASSOCIATIONS TICKET OFFER USING
PROMOTIONAL CODE: JG1

£13.00

WEBSITE BOOKING: www.southamptonboatshow.com

TELEPHONE BOOKING: 0844 776 7766 Lines open Mon – Fri between 9am and 5pm excluding bank holidays

Written by Don Walker

Don Walker

Published: 13 July 2015

13 July 2015

Created: 13 July 2015

13 July 2015

Last Updated: 14 August 2015

14 August 2015

Hits: 2710

2710
Bisham Abbey AGM weekend
Friday 16th-Sunday 18th October 2015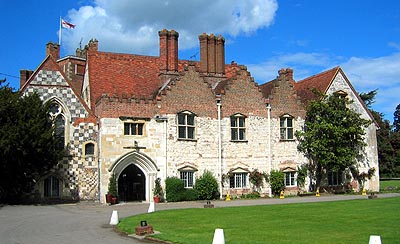 Plans for this year's AGM weekend were progressed at the recent committee meeting and we are delighted to present another fabulous event at the prestigous Bisham Abbey venue near Marlow. We will use their Great hall function suite for our gala dinner on Saturday evening and have access to their world class fitness facilities during the course of the weekend.
Written by Louise Busby

Louise Busby

Published: 09 May 2015

09 May 2015

Created: 09 May 2015

09 May 2015

Last Updated: 10 May 2015

10 May 2015

Hits: 2820

2820
Last call for Boat Show partygoers
The Boat Show is now in full swing at Excel and we are looking forward to another sociable get-together on Thursday evening when the BOC will be hosted for our annual party on the Broom Boats stand.
Any members wishing to join the party should contact This email address is being protected from spambots. You need JavaScript enabled to view it. and don't forget festivities officially commence at 5.30pm - earlier than usual as the show closes this year at 8pm on Thursday.
Written by Louise Busby

Louise Busby

Published: 10 January 2015

10 January 2015

Created: 10 January 2015

10 January 2015

Last Updated: 10 January 2015

10 January 2015

Hits: 1734

1734